Back a couple of months ago, my sister-in-law mentioned to me about a type of clothing for babies that are the new "in" thing. I wasn't sure what she was talking about because you see, I am not an "in" person. I don't follow the fashion magazines or even buy magazines at that. Jeans and t-shirts baby all the way, on me, my hubby, and kids. We even throw on some sweatshirts once and awhile!
So, when she brought this up, I was a little intrigued. Babylegs she tells me. Hmm....so yesterday she sent me a link to check them out. So, I click the link and all the sudden I felt that I was taking a trip with Michael J. Fox in a time machine car to the 1980's.
There I am sitting in a pink bedroom, waiting by the radio to hit the play/record buttons so I could catch my most favorite song that the dj promised would be after the 50 thousand commercials. I hear a note and smack down the play and record button. WHEW...I caught it. I head over to my bed and pull out my diary. Writing in a diary is what girls in their childhood/preteen years did in the 1980's. We didnt have text messaging, blogs, or myspace. I write about how my brothers are driving me nuts and how my parents won't let my best friend spend the night cuz she was here last weekend...so what who cares! So, I decide to write her a note hehehe and tell her about how terribe and rough my life is. When I am done, I turn on my little black and white television (which I might add the screen was smaller than this computer screen I am looking at now). MTV... there is Cyndi Lauper bouncing around in her video singing her heart out and what are those MOST AWESOME THINGS on her legs, TOTALLY??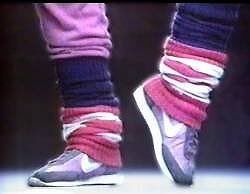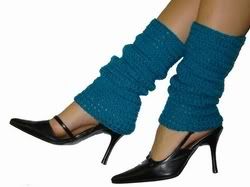 OMG...those are so freaking RAD! And Hello...FLASHDANCE?? That has to be how these things became so popular...that was the LIKE TOTALLY Gnarly movie EVER!
I gotta have some of those....."MOM" I yell out my bedroom door! I think they are totally BITCHIN!
Now...here I am year 2008 clicking on this link to
Babylegs.
They are legwarmers for babies/toddlers/kids! And all I can think about is how much I want these for Sydney!! OMG...how cute would she look in these under her little skirts this summer/fall??
But seriously?? We kids from the 80's-90's loved our toys (My Little Pony, Cabbage Patch Kids, Strawberry Shortcake, TMNT, Care Bears, Pound Puppies) and fashion items (jelly shoes, jelly bracelets, slap bracelets, friendship bracelets--seriously cheap accessorizing!!! denim jackets, tight rolled pants, frizzy BIG hair, and using words like NOT, PSYCHE, GAG ME WITH A SPOON OR BARBIE DOLL LEG, VALLEY GIRL, CHILL PILL) And this stuff is COMING Back! Is it because we loved our STUFF that much that we want it for our own kids??
HELLO of course! Sydney will be a valley girl for sure!
What are you favorite 80's fads/slangs/toys?? etc??
Check
out this site
to take you back in time!