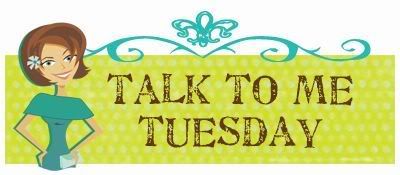 Tip Junkie
had a great idea on blogging about my T
op 10 favorite things in my house
.
It gave me the inspiration to go through my house and pick out things that make my house my home.
However, there are more than just "things" in my house that are in my top 10. This is easy because I am not one to purchase a lot of "things" for my house. I like things simple and clean, and I try to keep it very clutterfree. Things laying out DRIVES ME CRAZY!
So....here it goes....in no particular order.
Welcome to my home!
Okay, I love how you can see me in the reflection. Such great photography skills! This is my red door to my home. I love it! It makes my house stand out from the others and we also had a storm door put on. I love having the light pour in during the day and our dog loves to sit and look out at the world. The door to our home is to make others feel welcome since we love having company!
I know it says "in" your home, but I guess if you were standing in my home....you would see this view outside as the sun sets. It is breathtaking and the picture does not do it justice. This is definetly a favorite!
My centerpiece on my large dining room table is a favorite. I love natural colors so the apples are a nice pop of color to a beige room. The dining room is a favorite place because I love to gather my family here for dinner each night and also for big meals with immediate family.
I love this sign in my kitchen. This was made my a dear friend, Debby, when she removed the slate from her fireplace, she painted this up for me as a surprise. I have a pear theme in my kitchen and this just adds a touch of "love" and friendship to the center of our home....the kitchen. Even when the pears are gone from this space, the sign will remain.
My front room is a special getaway for me and my dog, Elliott. I sit out here to just "getaway" from the rest of the house. The bay window is where you see the beautiful sun setting in the evenings and where I can spy on my neighbor, Amy or moon her....hhehehehehhehe

This is a candle holder I have hanging in my dining room. I never burn the candles...why?? I guess I think the candles are too close to the wall, so it is for decoration ONLY...heheheh, but I love how it pops off the beige wall. Clean and Simple...that is me!
My corner bathtub in the master bathroom. This is where MANY memories have been made with my hubby and children. We have had nightly baths together since my son was born 5 years ago. Now my son is getting "too" private to bath with us, so family bath time is cut to just hubby, Syd, and I. We can fit all of in here and I love it!! Who needs a hot tub when you have this???


This is a clock that my mom bought me when we first moved into our house. It sits on the table in my foyer. I just love it. It will never go anywhere even though I have never put batteries in it.....I guess decor doesn't have to be functional...just look good....
Above is a vanity from my grandmother Hall...could have been way back further, however all I know is that it is antique and I treasure it. I will never forget where it sat in her spare bedroom in the old farm house. As a kid, I would play hide and seek under it. When she gave it to me, I was so speechless. I TREASURE this piece with all my heart.
Last but not least....This is definetly my number one favorite thing in my house. My family. They are amazing children and my hubby keeps me on my toes. If it weren't for them, this house would not be my home.
Thank you guys. I love you!!
Now your turn!! Go to Tip Junkie's Talk to Me Tuesday and participate!